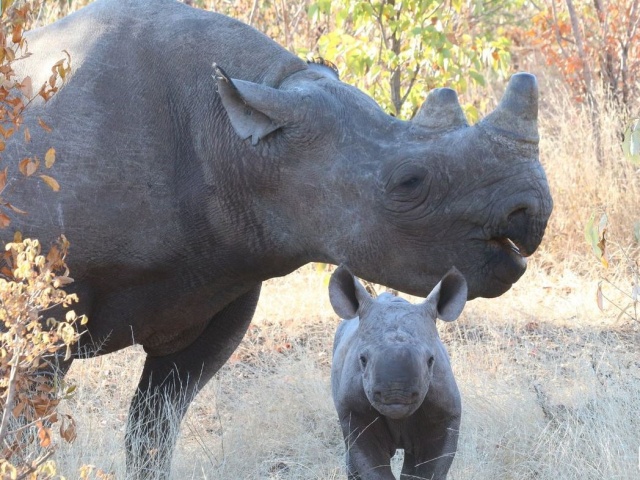 World Rhino Day is celebrated every year on 22 September. This day was created to celebrate and honour the five magnificent species of rhino that are left in the world. The aim is to increase awareness of rhinos in order to conserve what we have left.
History of World Rhino Day
From the early 1990's the plight of the rhino was shared the world over, particularly the African rhino issue. In 2010, the WWF - South Africa declared World Rhino Day. But it only became popular a year later.
The day became a worldwide success just one year later. In 2011, a lady called Lisa Jane Campbell sent an email inviting a fellow rhino enthusiast Rhishja to see the world's five rhino species survive and be there for coming generations. World Rhino Day has become a worldwide sensation, thanks to these two wonderful women, and has been a tremendous success. - News18.com
World Rhino Day - rhinos.org
World Species of Rhino
The five species of rhino that are left in the world are
Black – Critically endangered; between 5300 and 5600 left; found in eastern and southern Africa
White – Near threatened; Northern white rhino no longer in the wild and only two females left; between 17 000 and 18 900 left; found in southern and eastern Africa
Indian (greater one-horned) – Vulnerable; around 5600 left; now found in parts of Nepal, West Bengal, and the Brahmaputra Valley
Sumatran – Critically endangered; less than 80 left; scattered in parts of Sumatra and Borneo, Indonesia
Javan (lesser one-horned) – Critically endangered; less than 75 left in the wild; found only in Java, Indonesia.
*The figures above are total populations of rhino both in captivity and in the wild.
Indian Rhino in captivity
Rhinoceros in the Wild
Today, the World Wildlife Fund estimates that there are about 27 000 rhino left in the wild in the entire world, from 70 000 in the 1970's, and around 500 000 at the beginning of the 20th century. The primary threat to their existance is poaching for rhino horn which is believed to have medicinal qualities. Asian species are also very much affected by deforestation which has greatly reduced their natural habitat over the years, in some cases by 70 to 80%.
The Effect of Covid-19 on Conservation
In terms of the welfare of rhino around the world, one good thing has come out of the pandemic and that is the reduced poaching activities, and a gentle increase in rhino populations. In Zimbabwe, the Bubye Valley saw a 13.8% increase in the rhino population due to increased protection and Zimbabwe's lockdown, in the first 6 months of 2020.
A major blow to conservation efforts throughout is the decrease in funds needed to run the various operations such as tracking and monitoring, treating injuries, rescue and rehabilitation, protection from poaching, community support and education. These funds come from donors as well as tourism which has greatly declined becaue of the pandemic.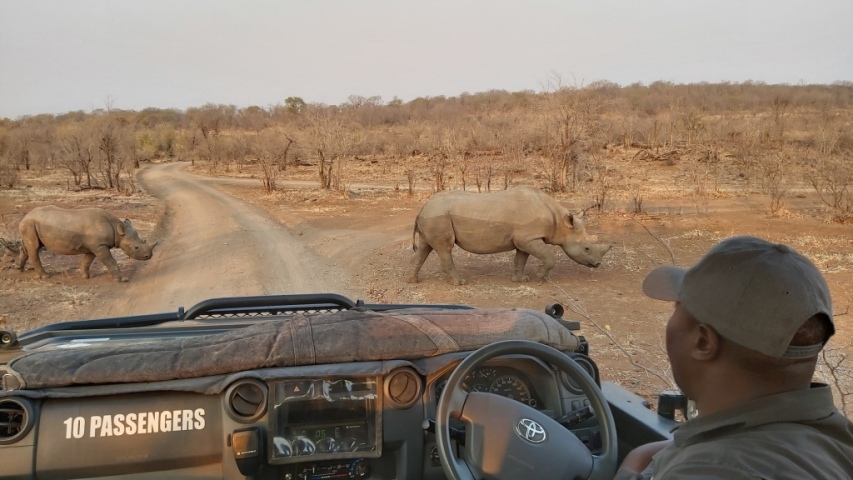 Rhino search game drive in Victoria Falls, Zimbabwe
How You Can Help
Perhaps the easiest way to help is spreading the word. Get on your preferred social media platforms and share interest stories, pictures, news and knowledge of rhinos. You can join different pages and groups on social media that support wildlife conservation. Join local zoos and organisations that are dedicated to this and similar causes. If you want to go further, make a donation to various wildlife conservation groups.
Travelling to wildlife parks on an African safari is another way that you can help in the upkeep of these and other amazing wild animals, and you get to see them with your own eyes, hear them, and enjoy the peace of nature. Some of the money that you pay goes towards conservation, and in some cases, the local communities.
How are you celebrating World Rhino Day? #SaveTheRhinos #WorldRhinoDay
Also, check out our African Rhino page.
Sources
News18.com - https://www.news18.com/news/lifestyle/world-rhino-day-2021-history-significance-and-interesting-facts-4229309.html
World Wildlife Fund - https://www.worldwildlife.org/species/rhino
Wikipedia - https://en.wikipedia.org/wiki/Rhinoceros
Rhinos.org - https://rhinos.org/our-work/where-we-work/zimbabwe/
Save The Rhino - https://www.savetherhino.org/rhino-info/population-figures/